The podiatry field has unique imaging needs. In podiatry, it's essential to have X-ray equipment that can perform both lateral and weight-bearing studies of patients.
In this blog, we'll explore the best options for first-time X-ray machine buyers in podiatry and those looking to upgrade their existing X-ray systems.
Best DR Panel Retrofit Options
Retrofit DR Panel options are a common choice among podiatrists. This is the best option when you have an existing analog X-ray system and want to convert it to digital. This is done by retrofitting the existing X-ray system that uses either CR or film-based cassettes.
Below, we've ranked three DR panel retrofit options as the best for podiatry needs in your business. This includes the PatientImage 10x12 Wireless DR Panel, TigerView 10x12 Wireless DR Panel w/ ADA Step, and PatientImage 14x17 Wireless DR Panel.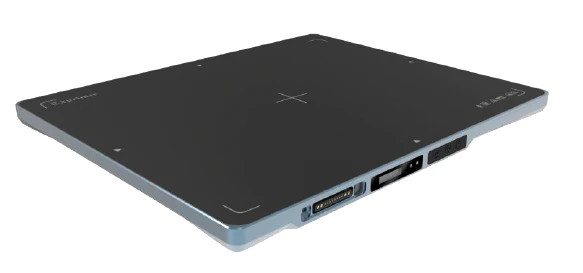 One of the most popular and robust DR retrofit options is the PatientImage 10x12 Wireless DR Panel. Its 10x12 panel will fit within the existing system without retrofitting for lateral shots.
However, you will need a protective cover for weight-bearing shots due to the potential damage that can occur to the glass panel. The weight-bearing cover is placed on top of the existing X-ray system, allowing you to perform lateral shots.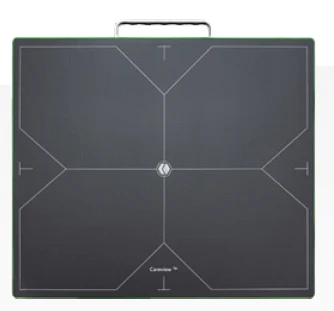 Another popular option is the TigerView 10x12 Wireless DR Panel w/ADA Step. The TigerView helps patients get up on the platform, while its cap allows you to perform lateral and weight-bearing shots.
The Tigerview has excellent software but lacks certain features and functionality. To be sure the software will fit your specific needs, request a software demonstration before purchasing a DR panel.


The final DR retrofit option is the PatientImage 14x17 Wireless DR Panel. In most podiatry practices, the PatientImage 14x17 will not work within the existing slots in the standard X-Cel X-Ray system.
If purchasing the PatientImage 14x17, you must buy a conversion kit that will allow you to perform lateral and weight-bearing shots safely. Still, this panel is worth the effort thanks to its superior image quality.

Complete Digital X-Ray Systems
It might be necessary to completely replace your old X-ray system and purchase a new one. In the podiatry field, two complete Digital X-Ray Systems stand above the rest: X-Cel X-ray 715-BD Series with PatientImage 14x17 Wireless DR Panel and the 20/20 Imaging PXS-710D system.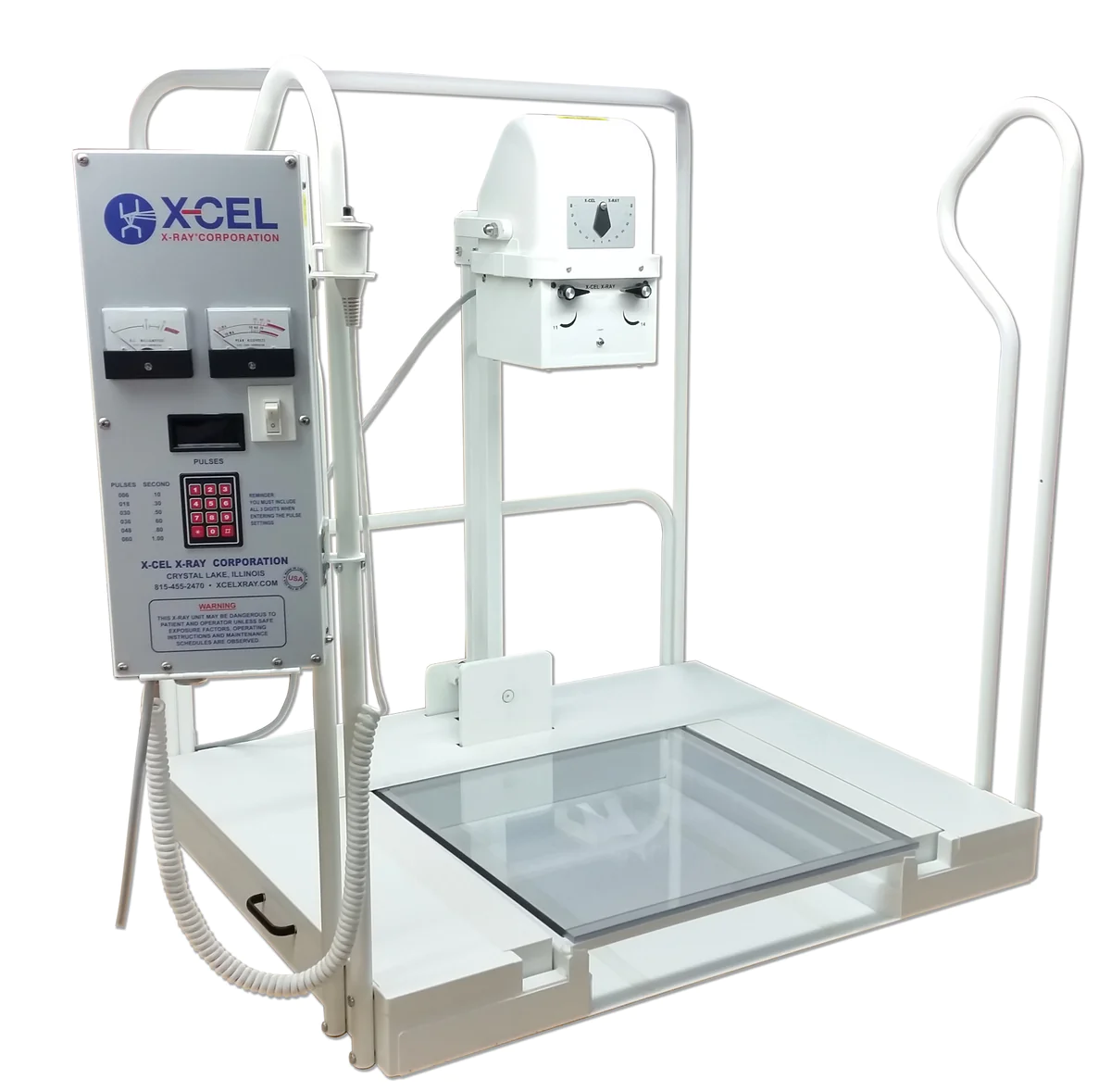 The X-Cel X-ray 715-BD Series with PatientImage 14x17 Wireless DR Panel is a top-of-the-line digital X-ray system. If you purchase an X-Cel X-ray 715-BD Series, the handrails on this system will qualify for an ADA tax credit. We recommend contacting your accountant to learn more about how you can qualify for the ADA tax credit.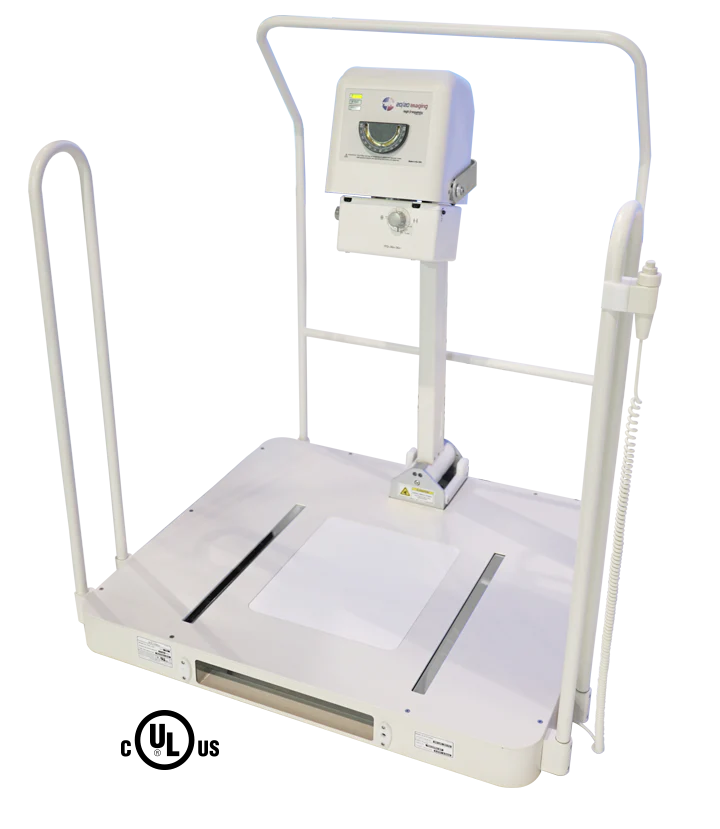 The 20/20 Imaging PXS-710D system is another stand-out system. This system has specific podiatry tools built into the imaging software, with a choice of DR panel - and its handrails also qualify for the ADA tax credit. Choose from wireless, tethered, 10x12, or 14x17. The best DR panel for your practice depends on your workflow and how you will be utilizing the panel.

Handheld X-Ray Systems
Handheld X-ray systems have gained increasing popularity over the years. They're portable, space-saving, and cost-effective. The Europa Handheld 14x17 Wireless DR Panel and Maven Imaging Handheld 14x17 Wireless DR Panel are at the top of our list.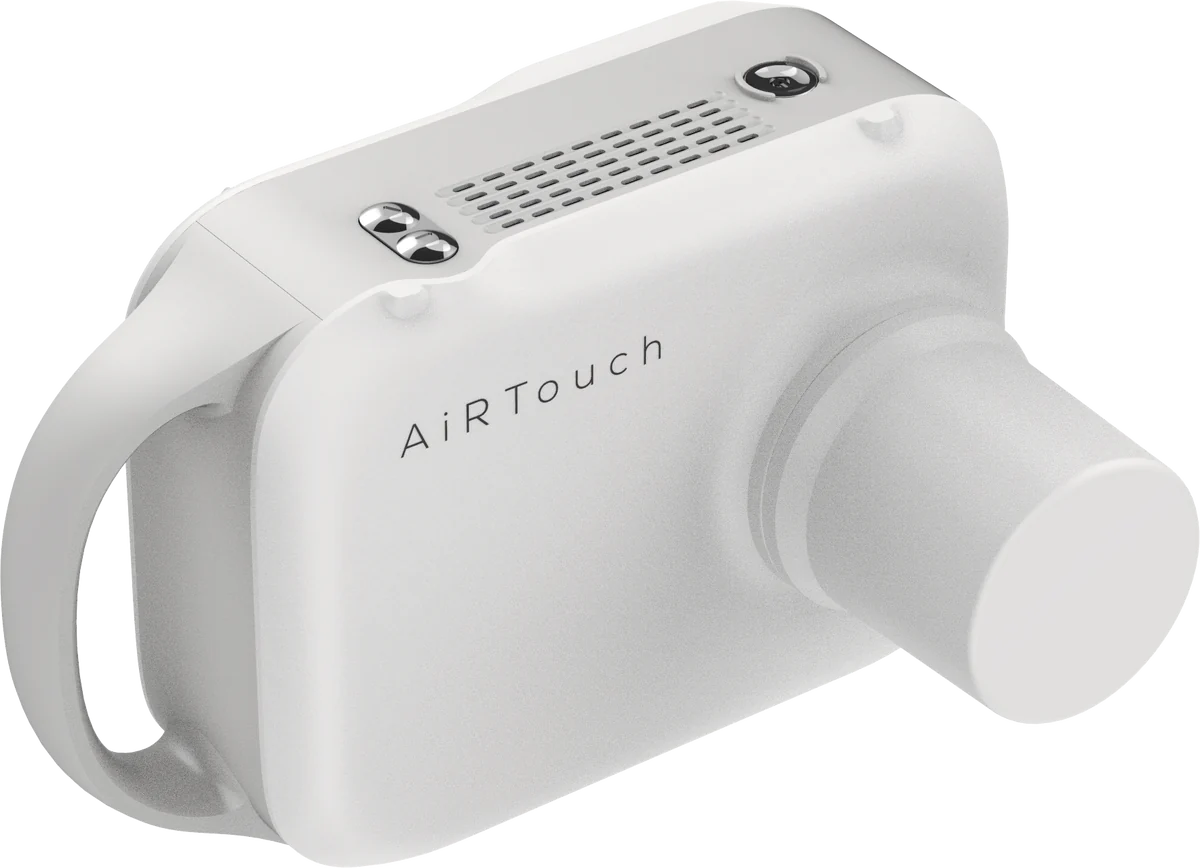 The Europa Handheld 14x17 Wireless DR Panel is a slightly newer handheld system boasting new features: a large touch-screen display and connection with a wireless DR panel.
As with all handheld X-ray systems, the operator must wear a lead vest, thyroid protection, and gloves for safety. It's essential to use a protective panel when using this handheld machine. Maven Imaging also offers a tunnel to protect the DR panel during weight-bearing shots.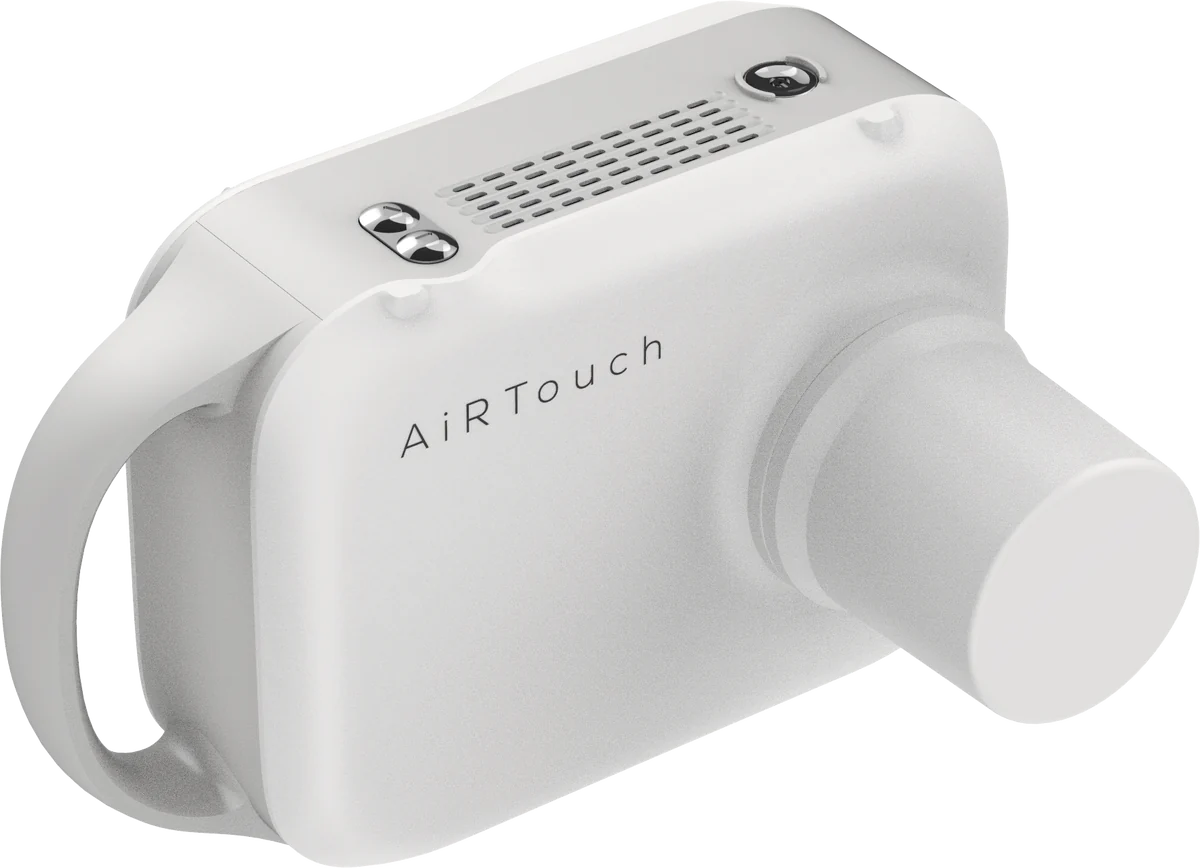 The Maven Imaging Handheld 14x17 Wireless DR Panel is slightly heavier than the Europa system, but it's also more affordable, with a touch screen that allows you to enter the desired X-ray technique. This system also has a laptop where you can view and acquire images.

Retrofit Kit Options
Retrofit Kit options are perfect for those looking to cut costs by keeping some parts of their existing X-ray system. Retrofit kits replace components of the X-ray system to make it more compatible and digital-friendly. The two best retrofit kit options are the SD-DR and the 700-BD Retro.
1. SD-DR (Single Direction unit)
Only specific X-ray systems can use the SD-DR, so check if it's compatible with your system before purchase. This retrofit kit will utilize the existing tube arm and the X-ray tube, and it works well if you have purchased an X-ray system within the last 5-10 years and want to replace only some components.
The SD-DR includes slots for 14x17 and 10x12 DR panels for weight-bearing shots, as well as a slot to perform lateral images.
2. 700-BD Retro (Bi-Directional Base, handrails, and tube arm with tilt head)
The 700-BD Retro will allow you to perform bidirectional images. This retrofit kit will replace the base, the tube arm, and the handrails of your existing system. If you have an X-ray system with a newer tube, you can utilize the existing tube. At Maven Imaging, we recommend our clients send pictures of their current X-ray system to determine the best fit.
Can I Use a Handheld X-Ray for My Office?
A few factors go into determining if a handheld system is suitable for your podiatry practice - first is the lead requirement. In some states, you can only use these devices if the patient cannot get to a traditional standard X-ray room.
Another factor to weigh is your practice's current workflow and potential for future change. There are certain downsides to handheld systems. These systems are typically more cumbersome, and the operator and patient must wear specific lead protection to reduce radiation exposure. A handheld system can also save space and has the added benefit of being extremely portable.
What To Look for When Buying a Podiatrist X-Ray Machine
When buying an X-ray machine for your podiatry practice, look for a device that will fit your needs and workflow. Below are some factors to consider.
Type of X-Ray Machine
Different types of X-ray machines work better for different practices, price points, and imaging needs. We recommend fixed X-ray machines and portable X-ray machines.
Portable vs. Fixed X-Ray Equipment
Podiatrists typically select portable or fixed X-ray machines. Portable X-ray machines are the easiest to operate and interface well with other technologies - with high-quality images and easy transferability. Likewise, a fixed X-ray machine can perform a wider range of studies than a portable X-ray machine.
Access and Sharing X-Ray images
Digital X-ray equipment is the easiest for sharing and accessing X-ray images. Sent directly to a computer, physicians can share these images with practitioners in other locations. Patients can also obtain CD copies of their X-rays to bring to other physicians.
X-Ray Software Components
Different X-ray systems have unique software that may work better for certain podiatry practices. It is essential to have a software demonstration before purchasing a system to ensure it will be appropriate for your workflow and imaging needs.
Maintenance of Imaging Equipment
Properly maintaining your imaging equipment will ensure a long-lasting system. The state also requires maintenance to keep your X-ray machine up to specific standards, while many X-ray companies offer maintenance packages to keep your system running. This is an important factor to consider when purchasing an X-ray machine. Maven Imaging has maintenance packages that ensure you're ahead of the game in maintaining your X-ray system.
Back-Up Options
Consider backup options when you have a digital X-ray system. While traditional X-ray systems use film, digital X-ray systems pose a unique challenge thanks to computer viruses and data loss.
The most popular third-party backup system options include Backblaze, Dropbox, and Carbonite; these file hosting services will back up the data on your computer.
Maven Imaging also has a cloud-based option for disaster recovery and is an excellent tool for sharing images with your patients. This system allows practitioners to email patients a link to their X-rays, where they can log on to see their images. Pricing for the cloud-based option starts at $9 a month.
How To Finance Your X-Ray System
Maven Imaging offers in-house financing to finance your newest investment. There's an option for everyone - from newer small business owners to well-established practices.
The financing rate depends on multiple factors, such as your FICO score and business credit. To get the best available rate and terms, you must have excellent credit, be in business for at least two years, or have two years of an established medical license.
There are certain pitfalls to watch out for when applying for financing from outside companies. If you finance outside of Maven Imaging, check if your lenders offer benefits such as no prepayment penalties. Also, ensure you aren't unknowingly getting into a lease where you may have to continue to pay a monthly payment or be required to make a balloon payment.
Please reach out to Maven Imaging if you have questions.
Looking for an X-Ray Machine For Your Podiatry Office? Contact Us for an Instant Quote!
When choosing the perfect place to buy podiatry X-ray equipment for your practice, you can always trust Maven Imaging. We offer sales, financing options, and support for your podiatry X-ray needs.
If you have any questions about the process or products, please contact us. We're happy to help and get you into the right system to meet your podiatry practice needs.