X-ray Equipment Room Drawing
X-ray Room Design and Site Planning
Protection from radiation is a critical goal when installing an x-ray system. After deciding on the type of x-ray equipment needed, a business must also create a space to house it.
The installation process requires focused planning, clear communication, and professional documentation. We can help save your business time and money, while avoiding costly mistakes.
Maven Imaging specializes in providing extensive x-ray room design and site planning, including electrical and lead shielding requirements, x-ray room build-outs, and pre-fabricated lead barrier walls.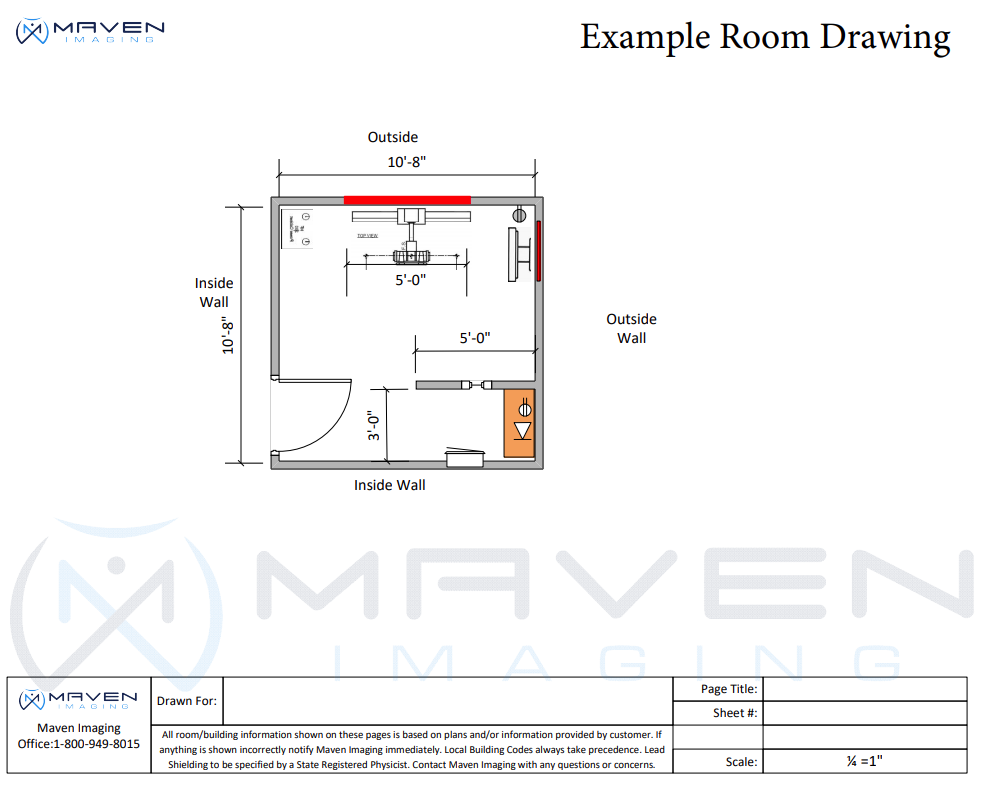 ELECTRICAL REQUIREMENTS FOR X-RAY GENERATOR
Every x-ray system we install needs different types of incoming power. Each x-ray generator we provide quotes on has diverse power requirements. For example, a 30 kW generator will have much different power requirements than a 65 kW generator.
Prior to purchase and installation, we work with your electrician, landlord, and any other necessary parties to guarantee you have the available incoming power to sustain the x-ray equipment.

If not? No problem! At Maven Imaging, we can make arrangements, whether it's going with a different generator or bringing in more power. All requirements are well-documented in a detailed equipment room drawing, so the information can be accurately relayed to your electrician and contractor. They'll know exactly what needs to be brought in to complete the setup.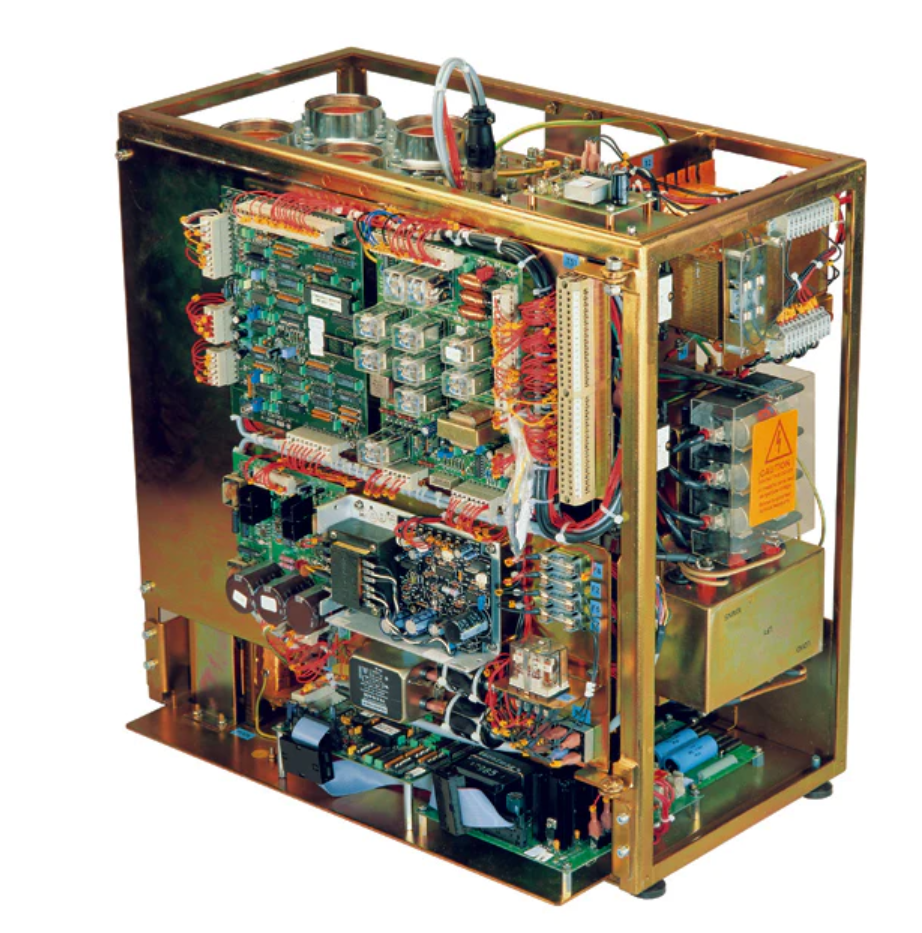 Lead Shielding Requirements
Every x-ray room must be lead-shielded, to some extent. However, we try to minimize the amount of lead needed, without sacrificing workflow.
The cost of lead-shielding your x-ray room will depend on the report from the physicist. Maven Imaging provides an x-ray room drawing and intake form to the physicist. This includes important details based on your usage, room orientation, and composition of the x-ray room itself.
For example, are you shooting out an x-ray window to an open area or a brick wall? This will all make a difference in lead shielding requirements. The standard time for the physicist report is 14 days, with expedited times ranging from 2-5 business days.
Once the report is retrieved, our professionals at Maven Imaging can calculate exactly how much lead is needed for the extra room, and provide an accurate quote on required materials.
There are a few different options. There's lead shielding with lead drywall and then there's something called lead rolls. Additionally, every room is going to need a lead window, which is going to be in the operator area.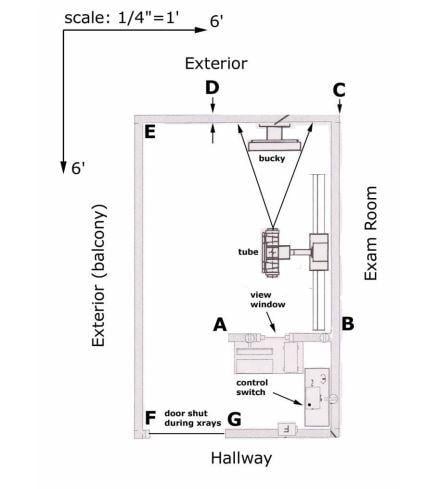 X-RAY ROOM PLANNING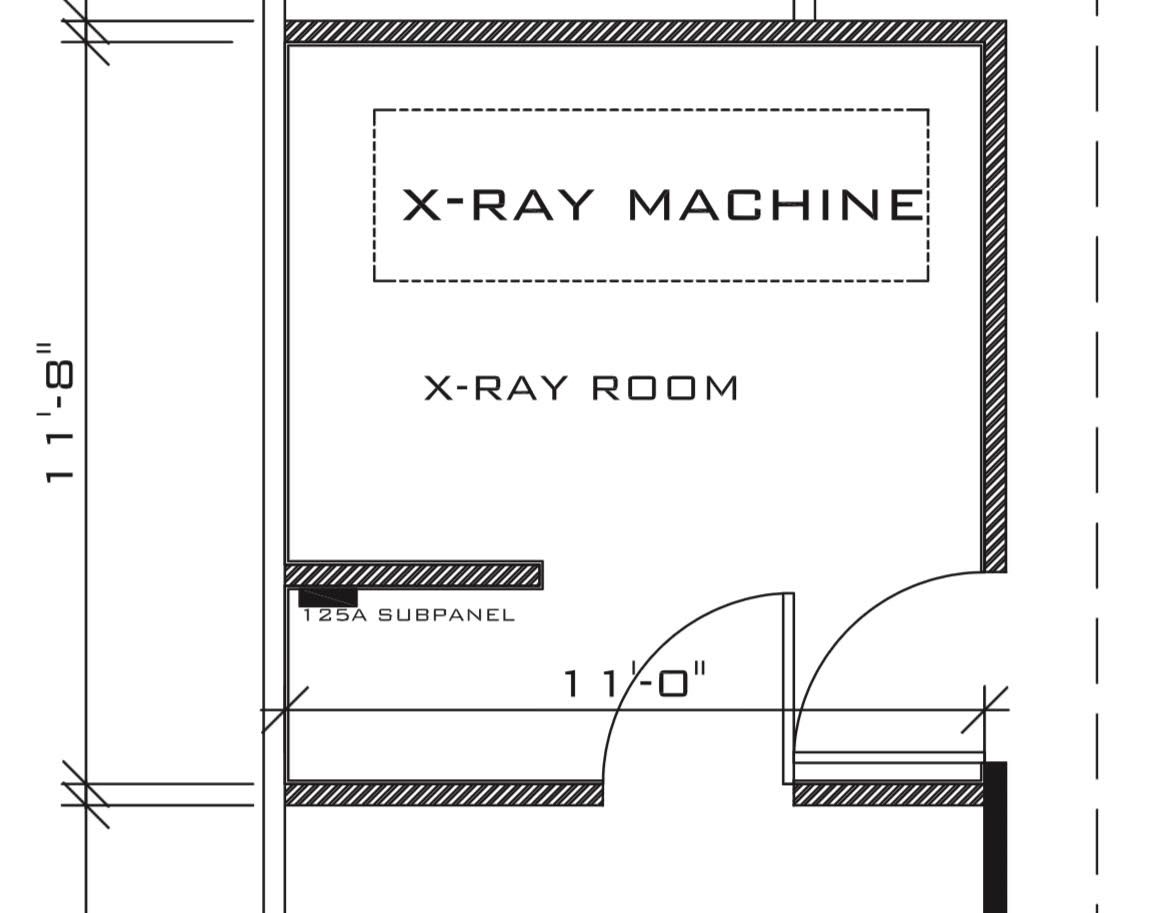 X-ray Room Buildout
This is where all the planning comes in. Once you know how much electrical and lead shielding is required, it's time to build out the x-ray room. We use exact specifications to ensure you pass all compliance and regulations, as well as any state and federal laws.
At Maven Imaging, we work closely with electricians, contractors, and other professionals to walk them through exactly what is needed for the x-ray equipment. As long as all parties are certified and licensed, the project should be simple.
We'll thoroughly explain what must be done, and provide detailed schematics.
Report Includes
Operator area build-out
Any lead lining installation
Electrical requirements

X-ray room drawings
are typically comprised of a 4-page document with:

Architectural dimensioning
Construction design and notes
Electrical design and notes
X-ray requirements

These reports are created to give contractors a clear direction on how to build out the x-ray room to fit the specific equipment that has been purchased.
HOW THE BUILD-OUT PROCESS WORKS
Step #1 - Buying
Select the system you want to purchase and sign the contract.
Step #2 - Planning
We provide a rough, equipment room drawing based on your measurements of the space and your business needs.
Step #3 - Submitting Reports
Once the room drawing is approved, we submit it to a physicist, who will then provide us with a shielding report. The shielding report calculates the lead needed in the room and where it must be installed. This takes 5 business days and costs $615 for the report.
Step #4 - Complete Final Drawing
Maven Imaging will complete the final room drawing. This document includes electrical and build-out requirements, which will then be sent to your contractor.
Step #5 - Quote
At this point, a quote is drawn up based on the lead materials required. The lead is then ordered. If your local contractor can source the lead, that is another option.

Step #6 - Contractor Build-Out
Your contractor starts the x-ray room build-out. We are here to help them every step of the way and answer any critical questions they have.

Step #7 - Scheduling
Once the build-out is near completion, we will schedule delivery and installation of the x-ray equipment.

Step #8 - Complete the Installation
The Maven Imaging team will come on-site and complete the installation. They will then proceed with training. This typically takes 2-3 days to complete. Once finished, Maven will complete all required FDA forms and provide instructions for how you can register with the state.
*PRE-FAB LEAD BARRIER WALLS

When it comes to pre-fab barrier walls, this is something extra to consider in x-ray room design and planning. In some instances, it makes a lot of sense to do a pre-fabricated barrier wall to minimize any build-out cost.
Maven Imaging will provide you with the exact specifications needed, including thickness and size, to ensure you get the right pre-fab wall that can efficiently protect the operator during x-rays.

All Services Included!
Everything above is provided for free and is included with any of the x-ray packages we sell. This is an exclusive offer you won't find anywhere else.

Have more questions?

Check out our free guide, "How to Build an X-ray Room."