We understand that investing in the right equipment is crucial for providing top-notch care to your patients. Whether you treat pets, exotic breeds, large animals, show horses, or anything else, you want to deliver quality care while keeping costs manageable.
We've researched and compiled a list of the best low-cost X-ray machines for your veterinary clinic in 2023. Join us as we dive into the features and benefits of these budget-friendly options, helping you make an informed decision for your practice.
Our Top Picks For Veterinarians
The best low-cost X-ray machine for a traditional clinic won't be the best option for an equine vet. That's why we've selected options for various types of veterinary practices. Whether you're a traditional, mobile, or equine vet, we'll explore your best options and compare the pros and cons to help you find the perfect fit for your clinic.
Traditional Vet (Stationary)
Traditional veterinary clinics have different needs when it comes to X-ray machines. Unlike mobile vets or those in the field, traditional veterinarians work on stationary machines, usually seeing one patient at a time and seeing higher volume usage. The specific demands for traditional vet clinics require stationary machines that are robust, durable, and easy to use, all while also providing the necessary image quality and still fitting within your budget.
We've selected the best options for traditional vets with these crucial qualities. With our expertise and guidance, you can confidently choose the perfect X-ray machine for your veterinary clinic.
Best for Veterinary Offices: Clear Ray 1500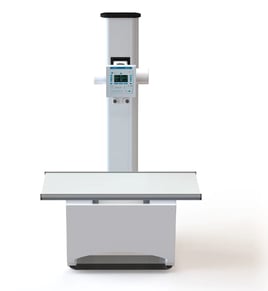 Introducing the Clear Ray 1500, one of the most customizable and feature-rich veterinary X-ray systems currently available. Designed by veterinarians with over 25 years of experience, this all-American system offers durability, adaptability, and excellent local support. It aims to make your job easier, faster, and more efficient.
Pros:
Easy-to-use
Durable
Feature-rich with local support
Cons:
May not be ideal for practices focused on larger animals
Who's This For?
Traditional veterinary offices need a reliable, versatile, and efficient X-ray system designed by experienced veterinarians. The Clear Ray 1500 delivers on all those fronts.

The Clear Ray 1700 is a high-frequency, U-Arm straight-arm X-ray system designed for larger animals. This versatile system features a 40kW high-frequency generator, a counterbalanced system for vertical positioning, and an elevating table. It's the ideal choice for clinics that handle larger animals.
Pros:
Customizable room limits
Superior image quality
Easy installation
Cons:
Not versatile for use with smaller animals
Who's This For?
Veterinary practices that handle larger animals need a versatile, adaptable X-ray system that adjusts to different heights and sizes. The Clear Ray 1700 lets you see even the biggest bones with exceptional image quality.

Mobile Vet (Remote, Rural)
Mobile vets often serve rural and remote areas. The patients don't come to the clinic; the clinic goes to them. These practices face distinct challenges compared to stationary clinics, requiring X-ray equipment tailored accordingly. Key factors to consider for mobile vets include portability, durability, ease of use, and consistent performance in varying environments.
We've prioritized these factors to find the most suitable low-cost X-ray machines for rural and remote mobile vets. Whether you're looking for the best overall mobile option, the best lightweight option, or the best option for dental practices, these options represent the best X-ray machines on the market, perfect for mobile clinics.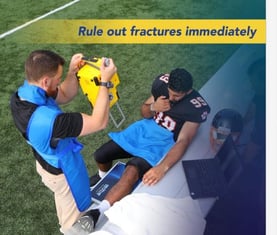 The TR90BH Tough Ray Battery Powered High-Frequency Portable X-ray Unit is designed specifically for mobile veterinarians operating in rural and remote areas. This lightweight, battery-powered unit offers quick and efficient X-ray imaging with a long-lasting lithium-ion battery that provides 300-500 exposures between charges.
Pros:
Lightweight
Portable
Long-lasting battery, suitable for digital or film imaging
Cons:
May not have all the features of stationary units
Limited output at higher kVDC settings
Who's This For?
Mobile veterinarians in rural or remote areas need a reliable, portable X-ray system that provides excellent imaging capabilities while on the go. The MINXRAY is an excellent solution.

Best Lightweight Mobile X-Ray: AIRTouch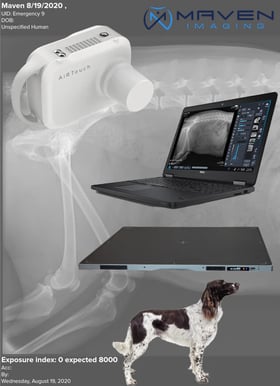 The Maven Handheld and Patient Image DR Panel Package is the perfect lightweight mobile X-ray solution for veterinary clinics. With a compact design and an integrated all-in-one PC, this machine is perfect for on-the-go use, while its advanced acquisition software ensures top-quality imaging.
Pros:
Lightweight
Wifi-enabled with seamless software integration
Minimal radiation exposure
Industry-leading battery performance
Remote diagnostics
Cons:
Battery life may vary based on usage
More suitable for mobile clinics than stationary setups
Who's This For?
This X-ray machine is ideal for veterinarians who need a mobile, lightweight solution, whether for visiting patients in rural areas or treating an emergency on-site.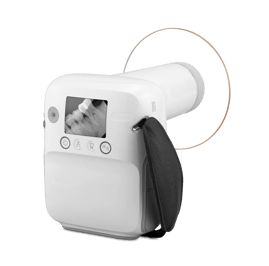 For veterinary clinics seeking the best dental X-ray machine, we recommend the Genoray Dental X-Ray - Surface Pro 7. It delivers high-resolution imaging, user-friendly software, and compatibility with multiple operation modes. This system is an excellent choice for detailed dental examinations in animals.
Pros:
High resolution with dynamic range
Dust and water-resistant
User-friendly software
Supports multiple operation modes
Cons:
Requires a compatible computer with USB 2.0 interface
May not be suitable for larger animals
Who's This For?
Veterinary clinics that require a specialized dental X-ray machine for diagnosing and treating dental issues can rely on the Surface Pro 7 by Genoray.

Equine Vet
For clinics treating our equine patients, here we address the specific requirements of equine veterinarians. Factors such as image quality for larger anatomy, portability for field visits, and durability for diverse conditions are crucial when selecting X-ray equipment for horses, mares, stallions, and foals. We've researched options tailored to meet these needs while maintaining affordability for your practice.
If you're looking for the best X-ray panel for equine radiology, look no further than the Pausch 240 HF. It has all the features of the similar TR90BH, including a high-frequency inverter type generator, digital displays of kV, mAs and exposure time. It even has a self-manageable APR function with memory keys. But what sets the Pausch 240 HF apart is its superb images. The imaging quality is thanks to the small focal spot X-ray tube.
This system has excellent reproducibility and isn't vulnerable to line voltage fluctuation. In simple terms, it reduces the hazards of X-ray radiation and prolongs the lifetime of the X-ray tube. Additionally, it doesn't require any adaptors but works with regular power outlets. You can order it with 110VAC or 220VAC, making it easy to use in any setting.

What To Look for When Buying a Veterinary X-Ray Machine
When choosing the most suitable X-ray machine for your veterinary practice, consider factors such as the DR panel, retrofit options, and whether a stationary or mobile machine would best suit your needs.
DR Panel
The DR panel's size, image quality, and operating configurations are essential factors. The 14x17 or 17x17Hybrid Cesium DR panels are two excellent options with varying panel sizes.
Both DR panels feature three unique configurations: wireless, wired, or tethered power & data. These panels also feature 16-bit high-quality image transfer, a lightweight design, and a rechargeable battery & charger.
Retrofit
Retrofitting your X-ray system with a digital panel, like thePatient Image Flat Panel 17x17, can save you money while offering high-quality imaging capabilities. You'll get a lightweight design, carbon fiber sensor protection plate, and Cesium Iodide (CsI) with an amorphous silicon photodiode. This panel is perfect for enhancing your X-ray system's performance and image quality without breaking the bank.
Stationary vs. Mobile
Consider whether your practice would benefit more from a stationary or mobile X-ray machine, depending on your clientele and location. It's one of the most important factors when considering the perfect panel for your practice. Thinking about location allows you to prioritize the most valuable features for you.
How Much Does Veterinary Imaging Equipment Cost?
Cost of Veterinary X-Ray Machines
The cost of veterinary X-ray machines varies depending on brand, features, and whether the machine is new or used. On average, expect to spend between $20,000 to $50,000 for a new machine.
How To Find Affordable X-Ray Machines for Vets
To find affordable veterinary X-ray machines, we invite you to browse the selection at Maven Imaging, where you'll find various options to fit your practice's needs and budget.
Looking for an X-Ray Machine For Your Veterinary Practice? Contact Us for an Instant Quote!
If you're in the market for a veterinary X-ray machine, don't hesitate to contact us for an instant quote tailored to your needs.
Frequently Asked Questions
What is a veterinary X-ray?
Veterinary X-ray is a diagnostic tool used to visualize internal structures in animals. It involves exposing the patient to radiation, which passes through the body and is detected on the other side by an X-ray detector. The resulting image provides information about skeletal systems, organs, and soft tissues.
What size room does veterinary imaging equipment need?
A room of at least 10x12 feet is recommended for veterinary imaging equipment, allowing for adequate space for the machine, patients, and staff.
Is training needed to operate veterinary X-Ray machines?
Yes, proper training is required to safely and effectively operate veterinary X-ray machines, ensuring accurate diagnosis and treatment for patients.
How long does an X-Ray machine for vets last?
On average, a veterinary X-ray machine can last around ten years, depending on usage and maintenance.
Does Maven Imaging offer financing to veterinary clinics?
Yes, Maven Imaging offers financing options to help veterinary clinics afford the imaging equipment they need. Visit our website for more information.