General radiology encompasses various diagnostic imaging techniques in hospitals, imaging centers, and urgent care facilities. These imaging modalities help healthcare professionals diagnose and treat various medical conditions, whether chest X-rays for pneumonia or broken extremities. Urgent care centers are crucial resources for providing efficient and accessible care.
As a healthcare provider, you need the right X-ray equipment to ensure optimal patient care. At Maven Imaging, we understand the unique demands of urgent care settings, and we've compiled the six best X-ray systems for urgent care in 2023. Keep reading as we dive into the features, benefits, and value these systems bring to your practice.
Our Top Picks For Urgent Care
Best Complete Urgent Care X-Ray Systems
Investing in a complete X-ray system can significantly improve workflow efficiency and patient care when setting up a new urgent care facility or upgrading an existing one. A complete X-ray system includes all the necessary components for seamless radiology workflow, such as the X-ray tube, detector, control console, and workstation. This equipment offers a cohesive experience, ensuring compatibility between all devices within the room, and can be tailored to your facility's specific needs.
At Maven Imaging, we help clients build complete rooms, whether a new room build or renovation. We work with you to determine the amount of lead required and work with your contractors and electricians to build an X-ray room. As you design your room, consider the best complete urgent care X-ray systems of 2023 below to create a package that aligns with your practice's requirements and budget.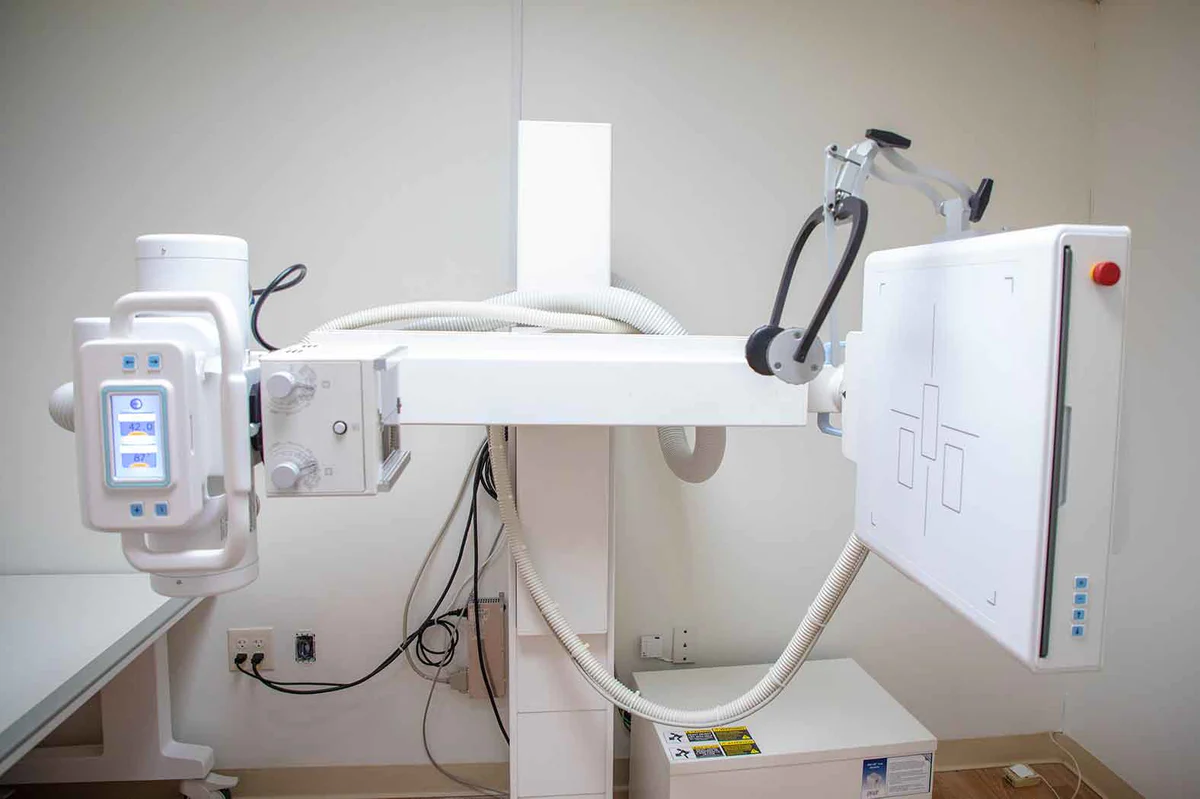 The Maven Digital Straight Arm with CPI Generator is the best complete system for urgent care clinics. This top-of-the-line equipment offers advanced imaging capabilities, customizable settings, and a 5-year parts warranty. The DR panel stays in the receptor, preventing breaking from drops.
Pros
Well-rounded and versatile machine
Compact setup w/mobile table
DR panel protected against drops
Cons
Pricier than a standard X-ray system
Who's This For?
The MAVEN Digital straight arm is ideal for urgent care facilities seeking comprehensive, high-quality X-ray equipment. Its straight-arm design is also an excellent option for clinics or centers with smaller offices.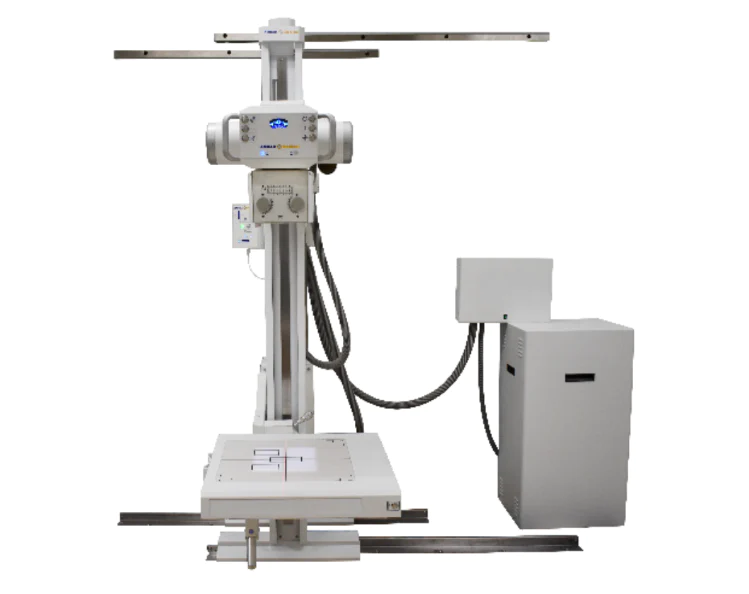 The AMRAD® Medical SRS is a top choice for urgent care facilities seeking a reliable floor-to-wall rail-mounted X-ray system. This versatile solution combines ease of use and advanced functionality for optimal performance.
Pros
Floor-to-wall rail-mounted setup with electric locks ensures precise positioning
More affordable compared to straight-arm systems
Cons
Some facilities may require additional options for customization
Who's This For?
This setup is perfect for urgent care centers needing a dependable, adaptable floor-to-wall rail-mounted X-ray with enhanced control and imaging capabilities. For clinics that have the space, it's also more affordable than the Maven straight-arm system.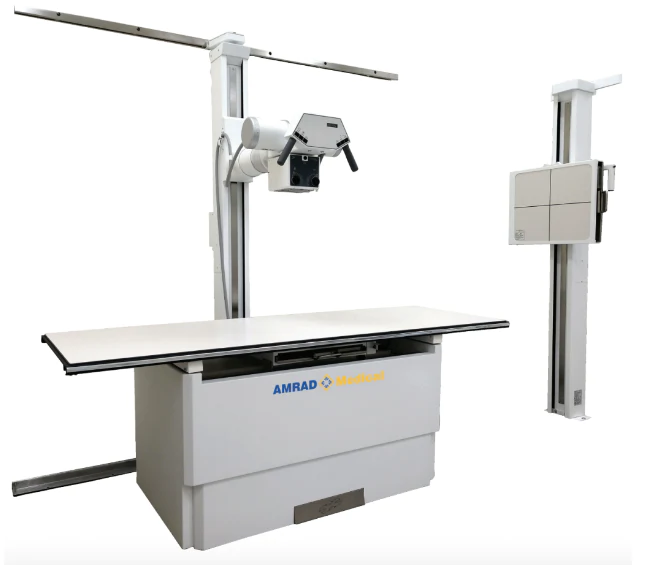 The AMRAD® Medical FWFC Classic System is a top-of-the-line four-way float-top table system designed to provide optimal versatility and efficiency in urgent care settings. It offers smooth and precise patient positioning, making it a valuable addition to any practice.
Pros
Exceptional ease of use and precision with the four-way float top table, foot treadle control, and 360° rotating base
Reliable stationary setup
Cons
Comprehensive features may make it a more expensive option for some practices
Who's This For?
The AMRAD® Medical FWFC Classic System is a reliable choice for urgent care facilities seeking an efficient, stationary X-ray system.

Best Urgent Care DR Panel
Retrofitting your X-ray system with the appropriate urgent care DR panel is crucial, as different practices have unique requirements, such as limited space or upgrading outdated equipment. Retrofitting may be needed when expanding your practice, enhancing technology, upgrading from a CR cassette system, or when existing equipment loses manufacturer support.
For wall stands, evaluate patient positioning, ease of use, and space constraints. You might need a floor-to-wall or floor-to-ceiling mount for increased flexibility. Consider weight capacity, patient comfort, and whether a four-way float top or fixed table suits your needs best. Choosing the right DR panel, wall stand, and table combination optimizes diagnostic capabilities and patient satisfaction.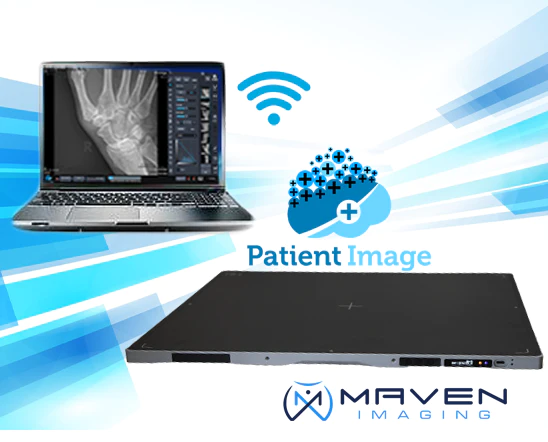 The PatientImage 14x17 Wireless Flat Panel DR System is a highly advanced, user-friendly X-ray system. This state-of-the-art system boasts superior image quality, exam-specific algorithms, and a fully DICOM 3.0-compatible software package. The DR panel can replace wall cassettes, with the wireless capability allowing seamless movement from the wall stand to the table.
Pros
Exceptional image quality
Customizable functions
Seamless integration with PatientImage Acquisition Software and PACS
Excellent for retrofitting from CR to DR system
Cons
Initial investment may be higher than other systems.
Who's This For?
The 14x17 DR system from PatientImage is ideal for urgent care offices seeking a reliable DR system to retrofit their existing CR system. It's best for practices that have a wall stand and a table.

Best Urgent Care Portable Systems
Portable X-ray systems offer unparalleled convenience and flexibility, allowing medical professionals to quickly and accurately diagnose patients in various settings. Mobile systems allow you to treat patients without reliance on stationary systems.
However, it's important to note that some states don't permit portable systems in urgent care settings. In these states, the practitioner can only use a portable system if the patient physically cannot get to a stationary system, such as a resident in a nursing home or a patient in quarantine in a COVID unit. Be sure to check your state regulations on portable X-rays before purchasing.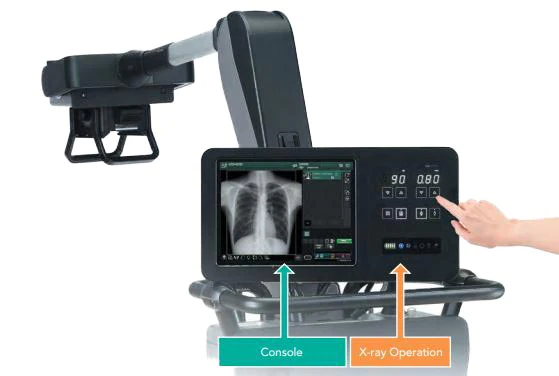 The FDR AQRO by Fuji with FDR ES is the best portable system for urgent care. This next-generation mobile X-ray solution combines a compact design, ultra-high sensitivity, and effortless handling for seamless use in any radiographic situation. The FDR AQRO offers excellent mobility, a user-friendly technologist console, and is designed with cleanliness in mind.
Pros
Lightweight and compact design
Quick charging capabilities
Advanced image processing for on-the-go diagnostics
Excellent image quality for a portable system
Cons
May not be suitable for facilities with limited space or requiring more advanced X-ray capabilities
Who's This For?
The Fuji FDR offers exceptional image quality. It's ideal for urgent care offices, chiropractors, podiatrists, and veterinary clinics seeking a portable, high-quality X-ray system to enhance patient care.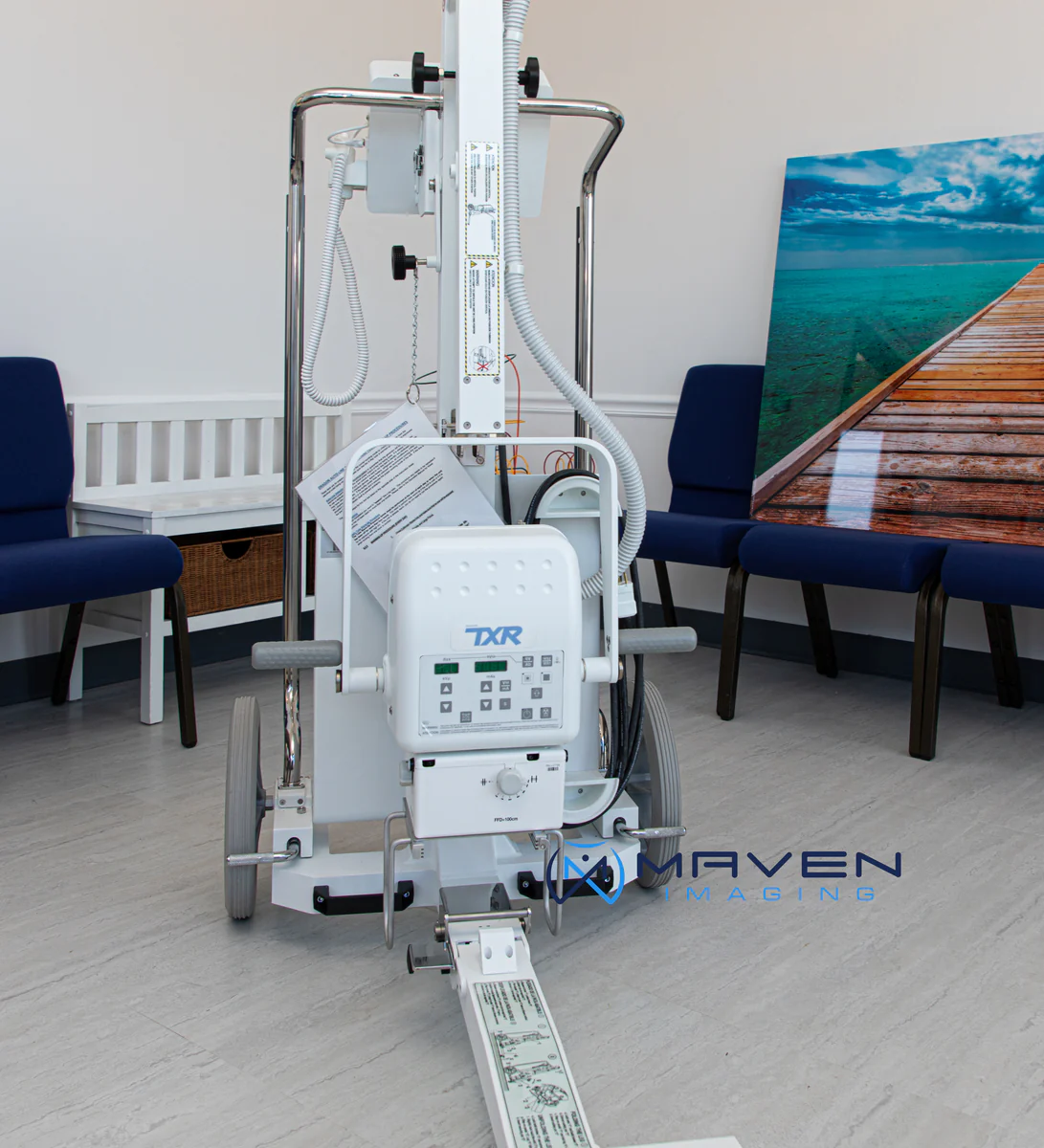 Meet the best lightweight, portable system for urgent care: the TXR Dragon Portable X-ray. This 4.0kW high-frequency system provides optimal imaging capabilities, a customizable overlay console, and easy maneuverability thanks to its stand-on wheels and gas spring arm support.
Pros
Lightweight design
Easy positioning with gas spring arm support
Customizable overlay console
Cons
Limited power input
Image quality is not as good as the Fuji
Who's This For?
The TXR Dragon is ideal for urgent care offices, chiropractors, podiatrists, and veterinary clinics looking for a lightweight, versatile, and portable X-ray system to elevate patient care.

What To Look for When Buying X-Ray Systems for Urgent Care
Complete Systems vs. Retrofitting
Determine whether you need a complete system or a retrofit for your existing equipment. Retrofitting can save money, but a complete system often provides better integration and advanced features for urgent care needs.
Portability
A portable X-ray system offers flexibility and convenience, allowing you to move the equipment between rooms or off-site locations. However, consider state regulations and whether portable systems are allowed in your area.
Functionality
Ensure the system meets your practice's demands regarding image quality, patient comfort, and ease of use. Look for user-friendly interfaces and features that streamline the imaging process, making it efficient for patients and staff.
Demand
Consider your facility's patient volume and the frequency of X-ray examinations. Choose a system that can handle the workload without sacrificing image quality or causing delays in patient care.
Manufacturer
Select a reputable manufacturer with a proven track record of reliable, high-quality systems. Research customer reviews, technical support, and after-sales service to decide which brand to trust for your urgent care X-ray needs.
FAQs
How Much Do DR Panels for Urgent Care Practices Cost?
DR panels vary in cost, typically ranging from $10,000 to $30,000, depending on the brand, technology, and features.
How Can I Find Affordable DR Panels for My Urgent Care Office?
Explore different manufacturers, compare prices, and read reviews to find affordable DR panels.
How Can X-Ray Systems Help Urgent Care Facilities?
X-ray systems are essential for diagnosing various conditions in urgent care settings, such as fractures, dislocations, and infections.
What Type of X-Ray Systems Should I Use For My Urgent Care Facility?
When selecting an X-ray system, consider portability, functionality, and demand. Evaluate your practice's needs, budget, and available space to determine the best system for your urgent care facility.
Looking for the Best Digital X-Ray for Urgent Care? Contact Us for an Instant Quote!
At Maven Imaging, we understand how crucial it is to find the right digital X-ray system for your urgent care practice. We've done the research to help you make informed decisions and select the best equipment tailored to your unique needs. Don't settle for less when it comes to providing exceptional patient care. If you're ready to invest in a top-notch digital X-ray system, we're here to help. Contact us today for an instant quote and expert guidance on the best X-ray solutions for your urgent care facility.