When installing a digital x-ray system in a chiropractic office, one of the most important things to consider is what type of incoming power you will need for a digital x-ray system. Most x-ray systems require dedicated power and other special requirements. In this article, we will go over the following:
What are the different types of Chiropractic X-ray Generators?
Single vs. Three Phase power
What is the cost if you do not have the adequate power?
Electrical X-ray room requirements and drawings
What are the different types of Chiropractic X-ray Generators?
The x-ray generator is the engine of the x-ray system, which drives the amount of power needed to produce and x-ray. Generators can range in power, but Chiropractors typically purchase either a 32kW or 40kW system. The more powerful generator will have a higher amount of dose, which will provide clearer images in larger patients. For most customers a 32kW system is sufficient enough, however if your patient demographics tend to be larger you might want to upgrade to a 40kW system. The x-ray generator is powered by incoming power, based on the generator size and manufacturer.
Single vs. Three Phase Power
In electricity, there are two different phases for the distribution of power. One is called single-phase and the other is called three-phase. Most residential homes or small commercial properties utilize single phase power, where large office buildings may have three-phase power. The x-ray generators will work on both single or three phase power, however it is important to understand which incoming power you have to make sure to order the generator for the correct power. In some cases, the single phase generator tends to be less expensive than a three phase power, so if you have the ability to choose you should look for single phase power.
What is the cost if you do not have the adequate power?
As a general rule, most chiropractic digital x-ray systems are going to require 100-150 dedicated amps for the x-ray system. For some offices, this requirement can not be meet with the current incoming power. In this case, you will need to have an electrician bring more power from the main breaker or in some cases pulling more power for the entire building. The cost can range from $1,500 - $10k+ so it is important to properly plan to minimize these costs. If you have the available power in the office you can expect to pay $1,500-$3,000 to dedicated the 100-150 amps to a disconnect box in the x-ray room and then run the power from the disconnect box to the x-ray generator. If you do not have the adequate power in the office you will have to bring in more power, which is how the cost can get very expensive.

IMPORTANT NOTE: If the cost of electrical starts to jump above $4-5k there is an alternative generator called the stored generator which will work on a standard 110v wall outlet. This generator is more expensive, but requires not electrical work and can be a big cost savings. We can assist with the correct generator configuration to best fit your needs.
Electrical X-ray Room Requirements and Drawings
For a typical x-ray room you are going to need to bring power from the main breaker into the x-ray room. The power can be brought into the room through surface mounted or in-wall conduit. The power will need to be brought to a disconnect box, which is typically positioned behind the operator area. The disconnect box is there as a safety measure in the event you had to quickly disconnect power from the x-ray generator.

Here is an example of what the disconnect box looks like and how it connects to an x-ray generator.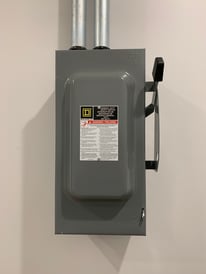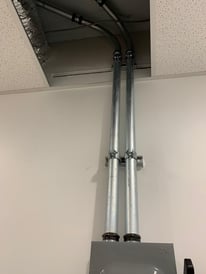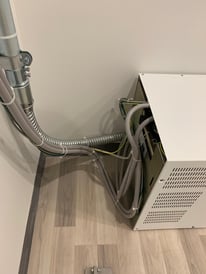 Part of the project management that Maven Imaging provides is an equipment room drawing, which outlines all of the electrical requirements. Each room will be different, so please keep in mind that this is only an example, and you should only follow the instructions that are outlined in your own specific final equipment room drawing we provide you with our package. Electrical work should always be completed using a licensed electrician.
Electrical Requirements for Single Phase X-ray Generator:
Disconnect box
220VAC 100 Plus Amp service
Power voltage range of 208- 240
Any line voltage below 208VAC will require a step-up transformer Line Interconnect: L1 - L2 - Ground (2 hot, 1 ground)
Mount bottom of disconnect box 60" from floor
Recommended wire size: (from disconnect box to distr 50' - #0 Copper 00' - #000 Copper 150'
Here is an example of what a sample page of the equipment room drawing would look like. In this page, we cover the electrical requirements and then on supplemental pages we then go into details on the generator requirements.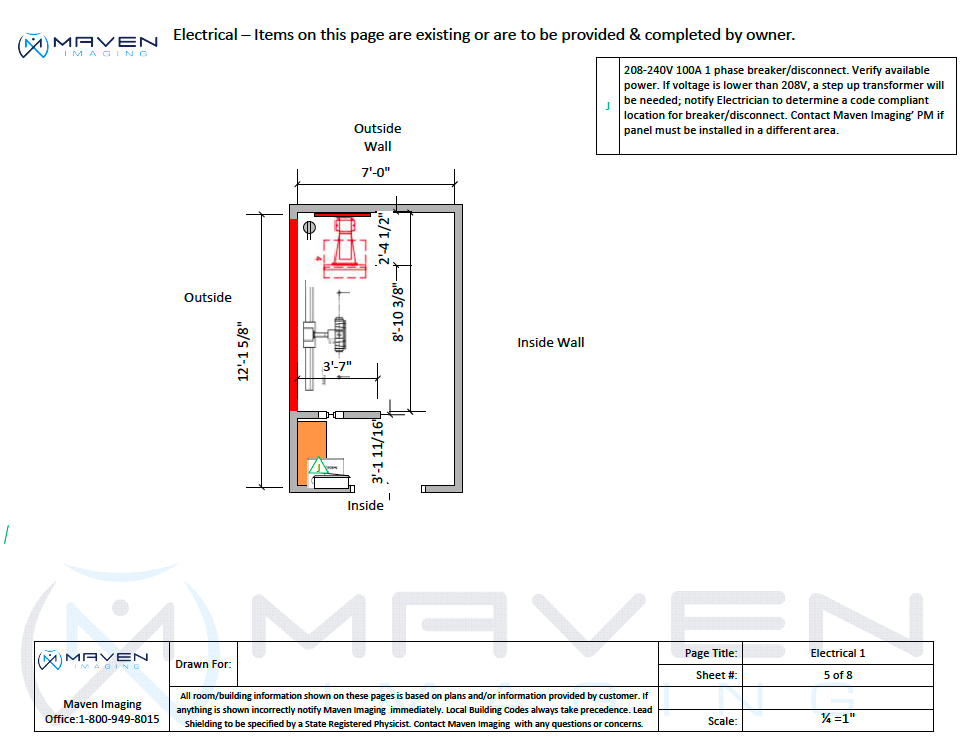 Here are some example electrical requirements for an x-ray generator. Please confirm the exact requirements with Maven Imaging prior to any electrical work to make sure that the information is accurate and that it is for the correct generator. The below example is just to show how there are different requirements for different generators based on the incoming line voltage.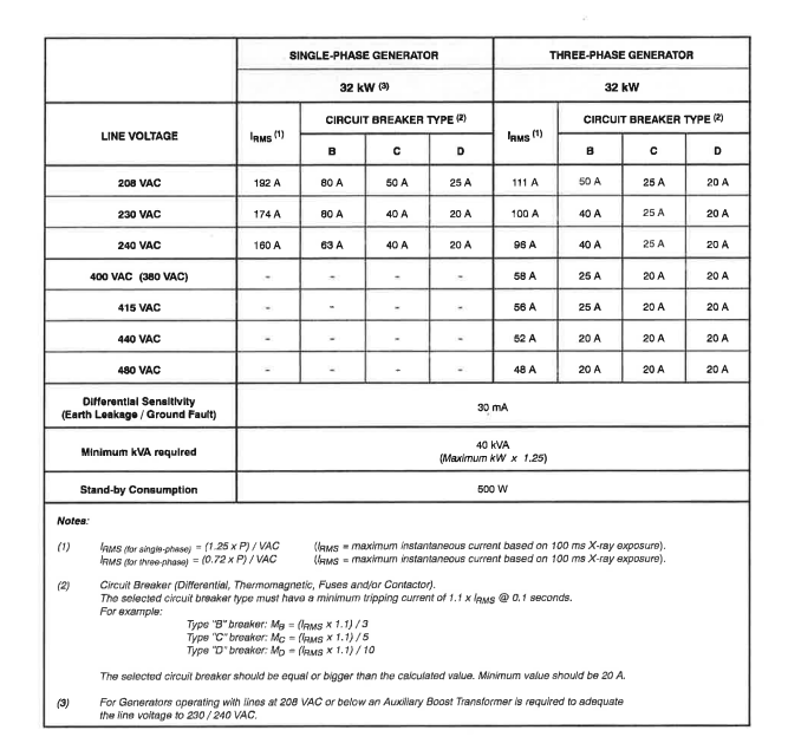 Please feel free to reach out to us for any additional questions regarding the x-ray room electrical requirements. Please note that we are not licensed electricians and that you should always check with local and state codes when doing any electrical work.