If you're in the market for an X-ray panel for general radiology, you've come to the right place. General radiology encompasses various medical imaging procedures performed at imaging centers, urgent care facilities, and hospitals. At Maven Imaging, we understand the importance of having reliable and high-quality equipment to support accurate diagnoses and treatment plans.
That's why we've compiled a list of the six best X-ray panels for general radiology in 2023. In this blog, we will review each option and help you make an informed decision when choosing the right X-ray panel for your practice.
Our Top Picks For General Radiology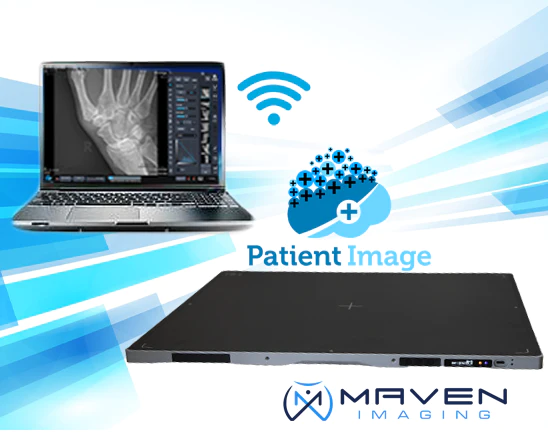 For the best overall X-ray machine for general radiology, we recommend the 14x17 inch CsI wireless DR system. The DR flat panel is a cassette-size detector with advanced PatientImage acquisition software and PACS. This machine offers superior image quality, a user-friendly interface, and efficient workflow management, making it a versatile and reliable choice for most practices.
Pros
Exceptional image quality with exam-specific algorithms and automatic optimization
User-friendly touchscreen interface that allows easy access to all functions
Scalable and upgradeable PatientImage PACS for efficient archiving and retrieval
Cons
Higher power consumption during image transfer compared to idle or acquisition modes
Who's This For?
This X-ray machine is perfect for anyone looking to invest in a high-quality and reliable radiology solution. Whether you're a small clinic or a large healthcare facility, its user-friendly interface, superior image quality, and advanced features will help you streamline your workflow, improve patient care, and enhance your practice's diagnostic capabilities.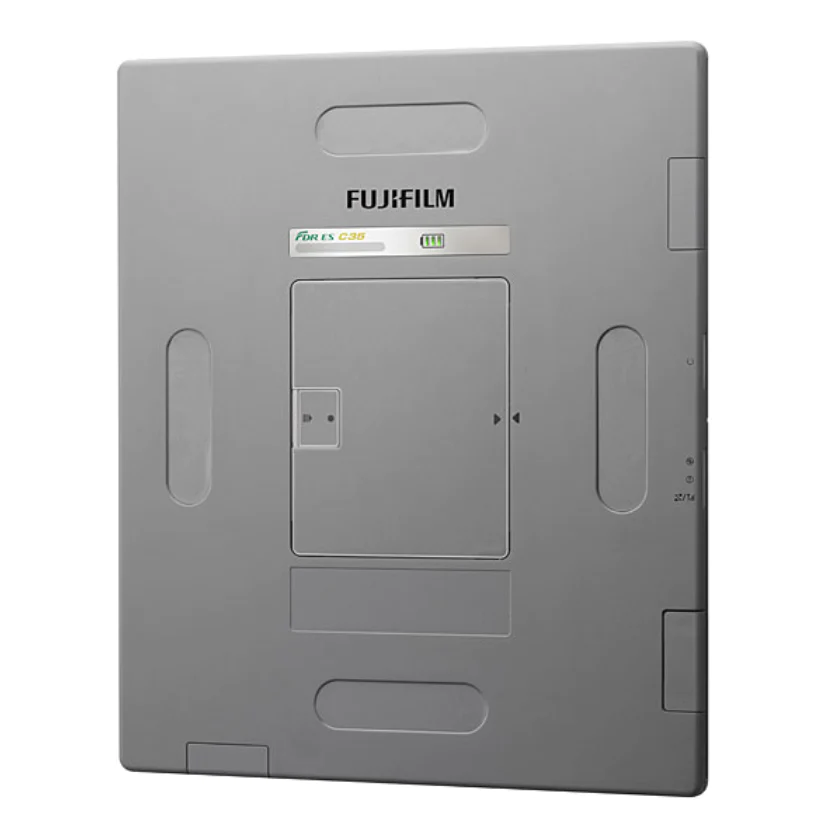 The Fujifilm FDR ES Detector is our top recommendation for the best hospital X-ray machine in 2023. These 14x17 detectors are lightweight and cassette-sized, delivering exceptional image quality and dose efficiency. They're perfect for complicated imaging areas like the lumbar spine. They're ideal for hospitals looking for a seamless transition to digital radiography without sacrificing image quality or workflow efficiency.
Pros
Lightweight and portable design; optional wireless functionality for versatile positioning
Fast, seamless integration with existing X-ray rooms and equipment
High image quality with 150-micron pixel pitch and wide 16-bit dynamic range
Fujifilm's ISS technology for ultra-sharp imaging and advanced dose efficiency
Up to 30% dose efficiency improvement compared to Fujifilm CR and 20% over comparable DR detector designs
Cons
May not offer advanced features or customization options found in some other DR systems
An often more expensive option compared to many alternatives
Who's This For?
The Fujifilm FDR ES Detector is an excellent choice for hospitals and healthcare facilities that need a reliable, high-quality X-ray machine for in-room exams. This brand-name detector is perfect for those who want to improve workflow efficiency, enhance patient care, and benefit from the latest dose efficiency and image quality advancements.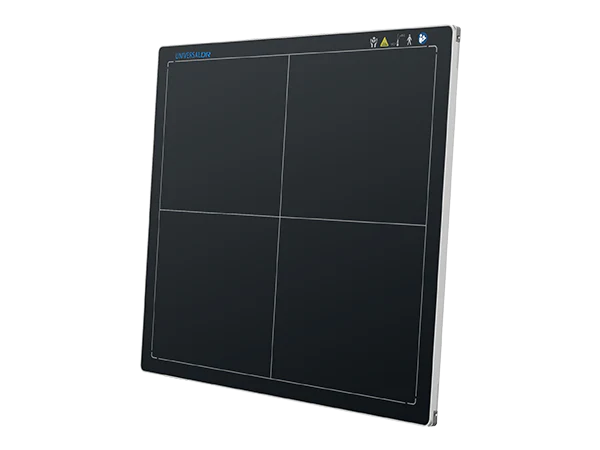 For urgent care centers, the 14x17 Wireless TFT DR Flat Panel Cesium Universal stands out as the best X-ray machine in 2023. This lightweight, user-friendly system offers advanced image processing. It has a comprehensive software package and computer workstation, making it a top choice for facilities requiring fast and efficient diagnostic imaging.
Pros
Lightweight design for easy handling
High-quality 16-bit image transfer interface with advanced image processing
Two rechargeable batteries and a charger included
OPAL RAD DICOM Image Viewer software with programmable APRs and exam folding
Cons
Limited advanced features compared to some higher-end DR systems
Who's This For?
The 14x17 Wireless TFT Cesium Universal DR Flat Panel is perfect for urgent care centers and medical practices that need a reliable, high-quality X-ray machine for fast diagnostics. If you're looking for an X-ray machine that can quickly process a high volume of images while maintaining excellent image quality, this DR panel is an ideal choice for your urgent care center.

Honorable Mentions
The CareRay EV-1417CW CareView 1500-Cw is a 14x17 wireless detector with a Cesium Iodide (CsI) scintillator that deserves an honorable mention in our list of best X-ray panels for general radiology in 2023. This lightweight, durable detector features automatic exposure detection, a foldable handle, and a 5-year warranty. It's a reliable option for various medical practices looking to enhance their radiology capabilities without compromising quality or performance.

The Radmedix Acuity 1417 Wireless DR System is another easy choice for an honorable mention in our list of best X-ray panels for general radiology in 2023. This cassette-sized, wireless flat panel quickly transforms any conventional X-ray room into an efficient digital radiology suite. With its slim design, fast image acquisition, and Automatic Exposure Detection, the Acuity 1417 is a cost-effective solution. It's a sound choice for medical practices looking to upgrade their existing X-ray equipment without sacrificing quality or functionality.

The Vieworks VIVIX-S Portable, Wireless Flat Panel Detector is our last honorable mention in our list of best X-ray panels for general radiology in 2023. This 14x17 multi-purpose portable panel boasts seamless integration into existing bucky trays, Wi-Fi connectivity for instant image transmission, and a fast battery charger for continuous use. With its Inside AP™ technology, this detector provides the convenience of direct X-ray examination with any computer or laptop via Wi-Fi. It's a versatile and valuable addition to your practice.

What To Look for When Buying an X-Ray Panel for General Radiology
Selecting the right X-ray panel for your general radiology practice is crucial for efficiency, patient care, and overall success. Consider factors like scintillator materials, speed, functionality, demand, and manufacturer when making your decision. By understanding these key components, you'll be better equipped to choose the perfect panel for your needs, optimizing workflow and delivering high-quality care.
Gadolinium Oxysulfide (Gad/Gadox) vs. Cesium Iodide (Cesium/Csl)
Scintillator materials play an essential role in image quality. Gadolinium Oxysulfide (Gadox) and Cesium Iodide (CsI) are two popular options.
Gadox provides decent image quality at a lower cost, while CsI offers higher resolution and better dose efficiency, resulting in lower radiation exposure for patients. CsI is the latest technology.
Weigh the pros and cons of each material to determine which best meets your practice's requirements and budget.
Speed
Speed is a critical factor in maintaining an efficient workflow. Faster image acquisition and processing times enable quicker diagnosis and treatment plans.
Look for X-ray panels with short acquisition times and rapid processing capabilities. Faster processing speed ensures minimal waiting time for patients and improved productivity.
Functionality
Consider the panel's functionality, including ease of integration with existing equipment, portability, wireless capabilities, and compatibility with various imaging software.
We recommend opting for a panel that can adapt to your practice's specific needs. For example, you might need a panel for a performing table that offers free positioning or one to use in tabletop exams.
Demand
Evaluate your practice's demand for X-ray imaging, including patient volume and typical exam types. Choose a panel that can handle your workload efficiently and meets the requirements for the most common exams in your practice.
Manufacturer
Finally, consider the manufacturer's reputation, warranty, and customer support. A reliable manufacturer with a proven track record for producing quality equipment and providing excellent support will ensure a seamless transition to your new X-ray panel and long-term satisfaction.
FAQs
How Much Do Panels for General Radiology Cost?
The cost of X-ray panels for general radiology can vary significantly, depending on scintillator materials, size, manufacturer, and additional features. Prices range from around $10,000 to over $50,000, with higher-end panels offering more advanced features and superior image quality. Evaluate your practice's needs and budget to determine which panel delivers the best value.
How To Find Affordable Panels for General Radiology
To find affordable X-ray panels, consider the following tips:
Research different manufacturers and compare prices, features, and warranties.
Determine which features are essential for your practice and prioritize those to avoid paying for unnecessary features.
Contact manufacturers and suppliers for discounts, promotions, or financing options.
Looking for the Best Digital X-Ray for General Radiology? Contact Us for an Instant Quote!
At Maven Imaging, experts are on standby to help you pick the perfect radiology equipment. We'll answer all your questions and help you secure financing with our in-house team. Get in touch today for any of your general radiology requirements.